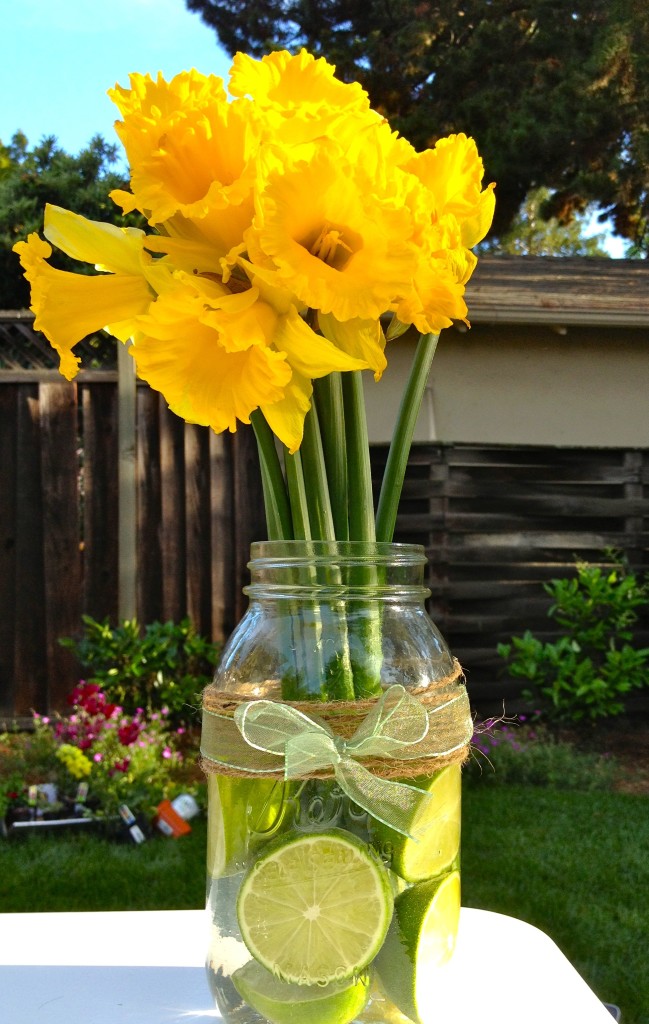 Daffodils are the perfect flower for a spring or summer wedding. On the inexpensive side, but still oh so pretty using eco-friendly materials. I made this centerpiece in a matter of minutes for less than $10 and it lit up the room. At Wedding Snap, we love the simple color palette of the daffodils of the bright, cheery yellow with the grass green stems - so we made a little twist to this summer wedding citrus and daffodil centerpiece and played on the green with a hint of citrus!
Why not use limes to add a unique twist to your summer centerpiece and give the centerpiece a more summery feel?
Step-by-Step DIY Summer Wedding Citrus and Daffodil Centerpiece:
1) Purchase daffodil stems from your local nursery or gardening store. We actually found 10 daffodil stems for $1.99 each at the local grocery store!
2) Take the vase of your choice - we chose a quart mason jar for about $1 (entire dozen case for $11.99). For taller or larger vases, you may need to place a PVC tube you can buy at Home Depot or Lowes or some sort of material to create a separation between the flowers and citrus.
3) Place lime and lemon halves along the sides until you are near the top of the vase/container. For a quart-sized mason jar we used about 2 limes and 3 lemons to get a colorful look!
4) Fill the vase with water and place your freshly cut daffodils in the center. And voila! Your DIY Summer Wedding Daffodil & Citrus Centerpiece is ready to be shared with all your guests and Pinterest.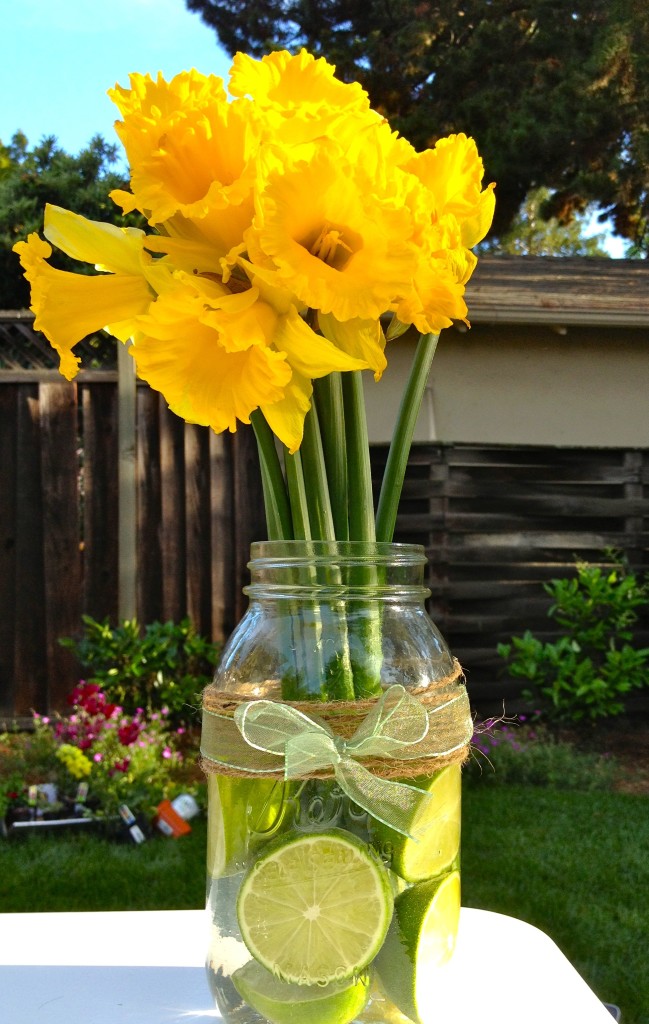 To customize your summer centerpiece further, why not use materials like burlap and ribbon? We wrapped twine around the top of the mason jar, taped the ends down, and tied a bow with green ribbon on top of the twine.
We also love the idea of using vintage bottles as your vase. They were all the rage last year, but we think they're still amazing and so versatile. Check out last week's post on 7 Ways to Use Mason Jars for Your Wedding if you didn't catch our ideas on how to incorporate mason jars into your wedding. If you don't feel one mason jar is enough to stand out on your table, tie multiple mason jars together with a ribbon and make a larger centerpiece.
Daffodils, fruits, & mason jars are perfect items to use to really save a few dollars in your wedding budget, while still having a gorgeous piece to place on your tables. At about $5-8 each, you can make centerpieces for 10+ tables for less than $100!
Play around with colors and shapes and customize your mason jar centerpiece! How would make your DIY Summer Wedding Citrus and Daffodil Centerpiece?
xoxo