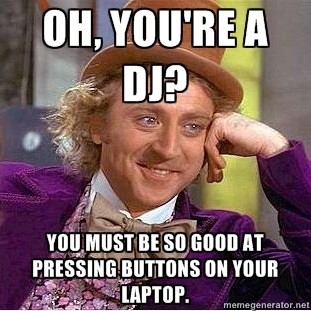 The Cost of DJ Equipment has come down, but the requirements to be an awesome DJ haven't. 
The cost of becoming a 'DJ' has come down substantially, but we've learned that for every 10 bad DJ, there's 1 really good one that pays attention to detail and delivers a killer experience.
Delivering a Killer Experience has the best ROI for all event professionals. 
Our customers use our app again and again for the same reasons your clients will book you as a DJ, because they had an awesome experience at an event. It doesn't matter how flashy your website is, how many online listings you have, or that you use specific pieces of equipment. The experience in its entirety has to be locked up. We've talked to thousands of couples, corporate event planners, audio visual companies, and DJ's that have used our app for their events. We noticed that DJ's make a lot of the same mistakes again and again and figured we'd make a list of the biggest DJ sins.
Bon appetit!
Also, a quick note: if you're interested in finding out about our limited time DJ partnerships contact us ASAP at [email protected] or (888) 613-7627. We have limited partnership opportunities per city.
9 of the Biggest Mistakes
Taping the Wires: Keeping wires concealed for weddings is extremely important. The fastest way to look unprofessional is have wires hanging everywhere. Worst of all is if someone trips over a wire. 
Extension Cords: Don't buy the orange home depot extension cable. Go for the black professional extension cord to avoid hanging or floor laden visible wires. All cords should be taped down. 

Short Notice: Don't do events last minute. It's a recipe for disaster unless you've built your entire business around last-minute DJ-ing.
Equipment Changes: Practice with the same equipment that you're going to use at gigs. We can't tell you the number of brides that have been horrified by the bad sound caused by this SNAFU. This means cords and everything.
Losing Focus and Getting Distracted: Stay focused on your turn tables. Don't get distracted talking with guests and mingling. The best way to get repeat business is offer an awesome dance experience for all the people on the floor. Networking with your audience contrary to popular belief loses business for you. When we talked to over 50 DJ's and 35 brides, the resounding answer about how they found the DJ and booked the gig revolved around their dance experience. Stay focused, stay busy. Attendees who drink and dance, tend to come up to the DJ, and in a very surprising way this is where you'll get the most new business.

Double Check your Transportation! Do your homework on the location and make sure you know how to get there. Search on google maps. Also, check the weather as well.  You cannot be late. 
Fluency Breaks: Be sure to have epic transitions. Watch the dance floor. If you notice everyone's looking around confused, you're doing something wrong.
Forgetting Equipment: Headphones, audio cables, and everything else you need for the event. Do not forget any of the necessary equipment. Do sound checks, regardless of how lame you feel doing them.
Want to be featured in our next post as a top DJ? 
Have a good example of a common mistake, email us your tip, link to your site, link to your facebook page, and a headshot to [email protected] and we'll feature you in our next post.