A Necklace for the Wedding Dress: How to Find the Perfect Pairing
A Necklace for the Wedding Dress: How to Find the Perfect Pairing
It's closer to fact than it is opinion: The most important piece of any girl's wedding day is The Dress. Finding the right cut, length, skirt, and body – and all at the right price point – is no easy feat! After snatching up the gown of your dreams, though, comes the challenge of accessorizing. Ideally, you'll select matching pieces that work to enhance your wedding dress instead of distracting attention from them, and that makes choosing a necklace – which, depending on length, may lay right over the front of your very expensive dress – the most perplexing accessory of all. How does one strike a balance with a piece that is stunning, yet not visually demanding?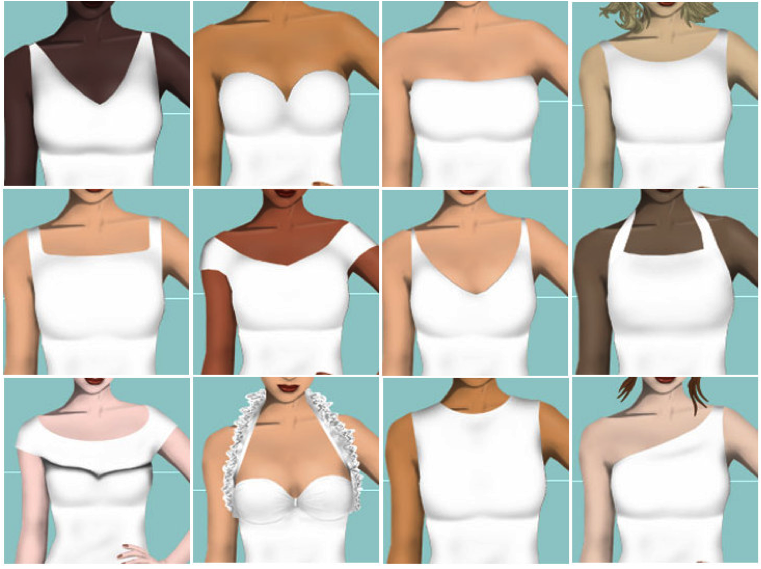 No Necklace: It's easy to strike a balance if you choose to go without any necklace at all. Given your alternatives for other accessories – earrings, rings, bracelets, tiaras and hair pieces, shoes and more – a bare neck is actually quite common for brides. After all, if your dress provides enough character and detail, it would be wrong to take away from it. Jewel, boat, and square cut necklines are most commonly worn without a necklace because the layered look becomes too busy. Sometimes, you have to let the cut speak for itself! But when you're showing off more skin, your dress will likely call for a little something to sparkle or shine.
Small and Delicate: If you want all eyes on your dress, there's no better way to draw them there than with a small pendant on a simple chain. A subtle diamond or rhinestone charm adds elegance to any white dress, and is stunning when it catches the light. Not to mention, this option is so versatile, it can be worn with virtually any style neckline. If solid metals are your preference, Kate Spade offers a sweet alternative to gems and jewels with "yes" or "I do" pendants in script writing. Sophisticated gold pieces are another beautiful way to dress up your gown while keeping it conservative. ShopHQ has a large selection of upscale Italian jewelry that includes delicate chains with lovely detailing, perfect for a scoop or sweetheart neck.
Pearls: Tried and true, a strand of pearls accomplishes a soft femininity, while the off-white color lends itself to the traditional wedding dress with ease. A good rule of thumb: the lower the neckline, the longer the necklace; but play around with which lengths best flatter your neck and chest area, as well as the style of your dress. Pearls can be mild, single strands, long strands, or even doubled or tripled in thickness to better compliment your ensemble. Online retailers like Pearl Paradise allow you to browse options by style and pearl, if you want to stray from the predictable (there is such a thing as too much white). Typically, pearls go best with dresses that feature lace, or else have a vintage feel to them. If your white dress is more contemporary, try for another necklace style to that will keep you from looking too rigid or traditional.
Statement: Bridal jewelry seems to be trending towards casual, with big, bulky, intricate necklaces that vary greatly in color. If are wearing a sleeveless dress, a statement necklace could be the perfect accessory; be wary of how busy your dress body and skirt are on their own, and match your necklace accordingly. Bold necklaces best match lower necklines like halter, Queen Anne, sweetheart, and strapless. A simple guideline to assist with your selection is, the more exposed your chest and neck is, the bigger the necklace can be. Alternatively, if you want to amplify your accessories without showing a lot of skin in your dress, long necklaces are the way to go. They help to elongate the torso, and the length helps to negate the attention that a loud or colorful strand will bring.
When selecting your wedding accessories, forget the notion that perfect matches are important. None of your accessories need to come in a set, and mixing colors, jewels, and styles is more than okay so long as it works to enhance your special dress. As the centerpiece of your accessories, decide on a necklace (or the absence of one) before choosing any other accessories – the metal and weight of the necklace will assist you in selecting what other pieces your dress might need. Just because your necklace is front and center, doesn't mean it has to be the focus piece; simple chains can balance out a bare neck, while the real focal point may be a beautiful pair of drop earrings or a dazzling hair piece. Just make sure you give yourself plenty of time to play around with different styles and materials before your big day, and never forget that the dress is the real star of the show!
What type of necklaces do you prefer to be paired with bridal dresses? Which do/did you begin shopping for first: the dress body, a particular neckline, or the accessories?
About the Author: Kelly Figuera is a twenty-something freelance writer, living in the northeast. Her greatest guilty pleasure is buying jewelry – from estate finds, vintage pieces, and handmade creations, to fun and cheap department store accessories. When her wedding day comes, she will definitely be finding a halter-style dress and a chunky, colorful statement necklace to pair it with!