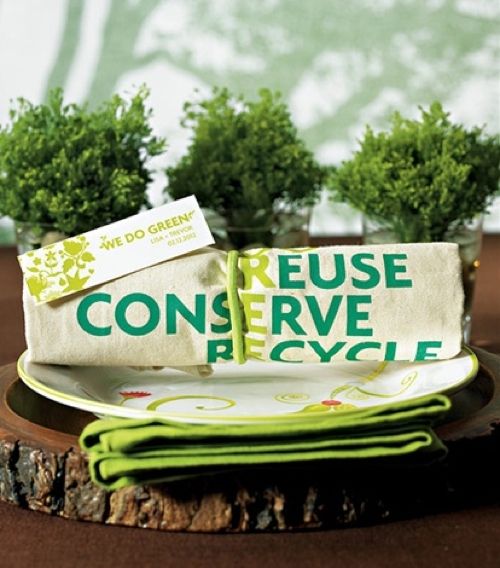 Happy Earth Day! Here at Wedding Snap, we're all for preventing waste and helping protect the environment. Whether you're already planning a green wedding or are simply looking for a few fun and unique ideas, there are plenty of eco-friendly wedding favors both you and your guests are sure to love. Stumped about where to begin? Here to help get the creative thoughts flowing is a list of a few great eco-friendly wedding favors we love. Check them out, and after you're done reading, feel free to also share some of your own favorite ideas!
1. Birdseed Bundles
http://pinterest.com/pin/298856125242800312/
Available in a variety of fun shapes that include everything from hearts and wreaths to monogram letters, birdseed favors continue to be an especially popular choice for eco-friendly wedding favors. Many of these can also be personalized with small tags sharing details like your names and wedding date or a special message of thanks, so get creative and have fun making them your own. Want to hang one up yourself after the big day? Don't forget to set aside a couple extras to take home!
2. Seed Packets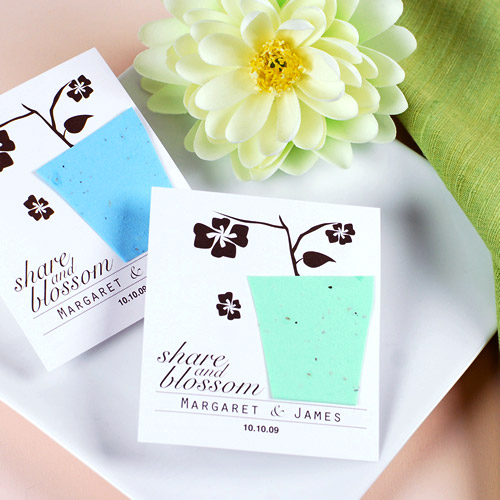 http://pinterest.com/pin/235383517994395141/
Another one of our all-time favorite eco-friendly favor ideas, seed packets give garden-loving guests the perfect opportunity to grow something beautiful while remembering your wedding day at the same time. Since at least some of your guests may live outside your local area, it's definitely a good idea to try choosing a versatile flower or plant that grows well in a variety of regions. Selecting a flower type that matches up with your wedding color scheme or is a personal favorite is yet another great way to add a special twist.
3. Succulent Plants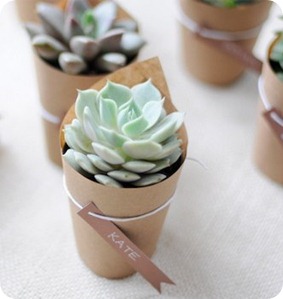 http://pinterest.com/pin/534309943261212923/
If you'd like to give your guests a small plant, but not necessarily one they have to grow from scratch, low-maintenance succulents can be a great choice. In fact, succulents are currently a popular option for everything from centerpieces to bouquets, so giving them out as favors can certainly be a fun way to carry a cohesive look throughout your entire event.
4. Beeswax Candles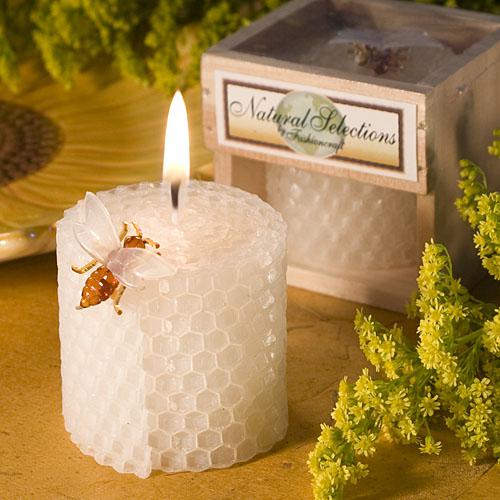 http://pinterest.com/pin/555842778979345614/
Candles have always been a top choice for wedding favors, and by choosing ones made with beeswax, you can make a more eco-conscious choice when giving them out to guests. Like other types of candles, these come in a variety of colors and sizes, so keep looking until you find the one that's right for you.
5. Charitable Donation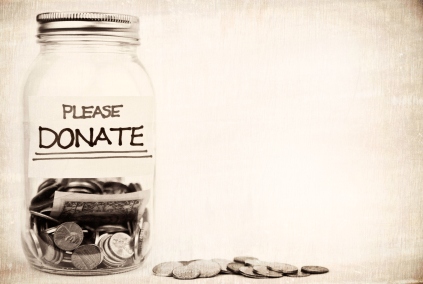 http://pinterest.com/pin/140244975866699538/
Last but certainly not least, making a charitable donation to an organization that's close to your heart is a great way to reduce waste while supporting a good cause. While some couples hand out small cards sharing details about the donation, you can also avoid this by having your DJ make a point of announcing it during the reception or even doing so yourself if you plan to give a speech thanking guests for attending. No matter which option you choose, this is by far a perfect way to use your wedding day as an opportunity to give back.
What do you think of these eco-friendly wedding favors? Do you have a favorite, or are there any others you especially love that aren't already listed here?
Featured Photo Credit: http://www.greencupboards.com/blog/2013/03/27/8867/